"Pre-wedding stress had my skin in less than perfect shape. I also got married in August, so heat and humidity was a concern! I wanted my makeup to last all day but thought it was a pipe dream. However the air brush makeup did just that."
Hair & Makeup Packages
Our studio provides many services to the Maryland (including the eastern shore), DC, and Virginia areas. We also provide on-site services for trials, wedding day makeup and hair for the bride and bridal party, engagement photos, and special occasion makeup. Please inquire about our travel fee.
Makeup and Hair Trials
$150 each (Includes lashes!)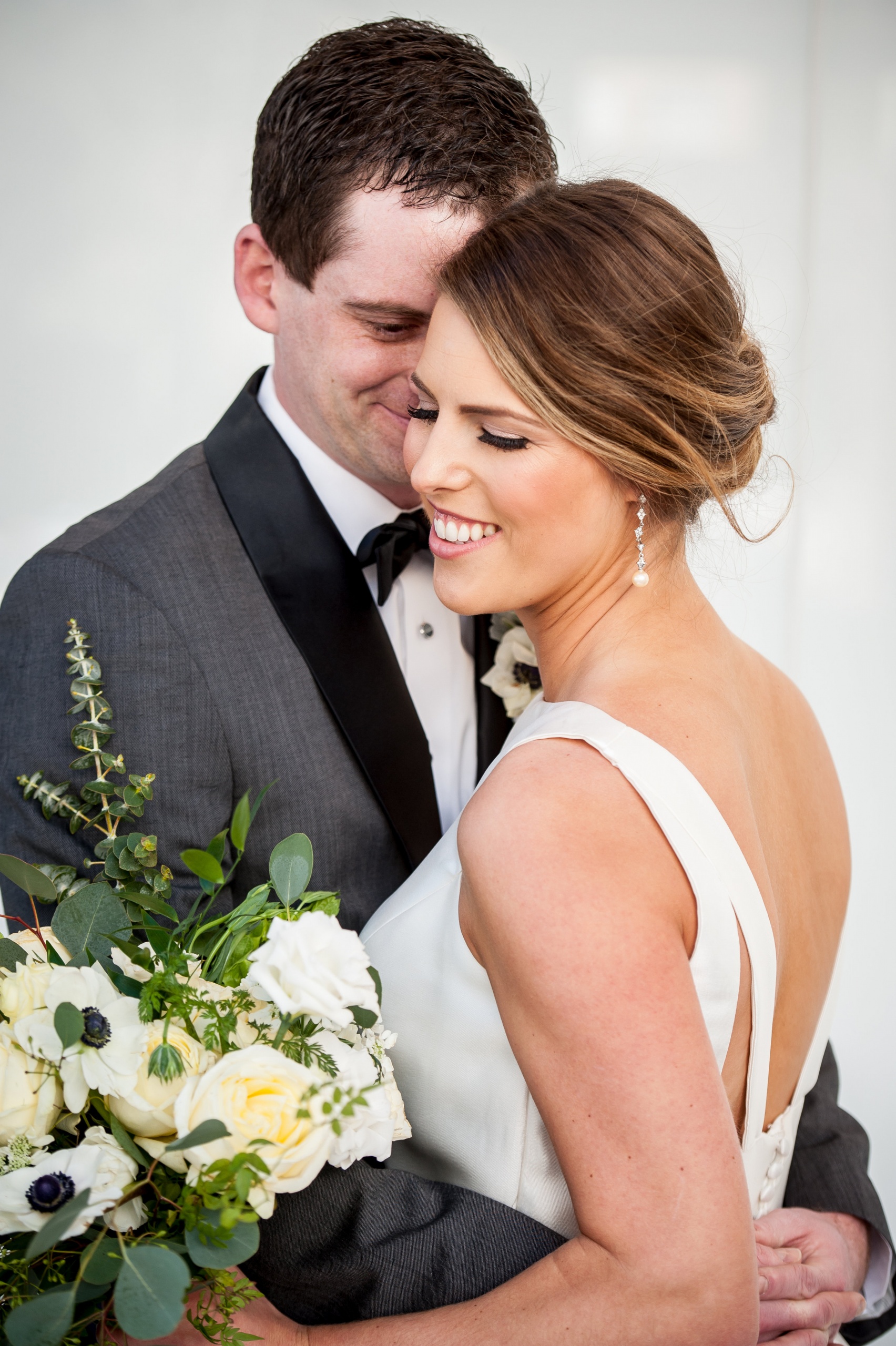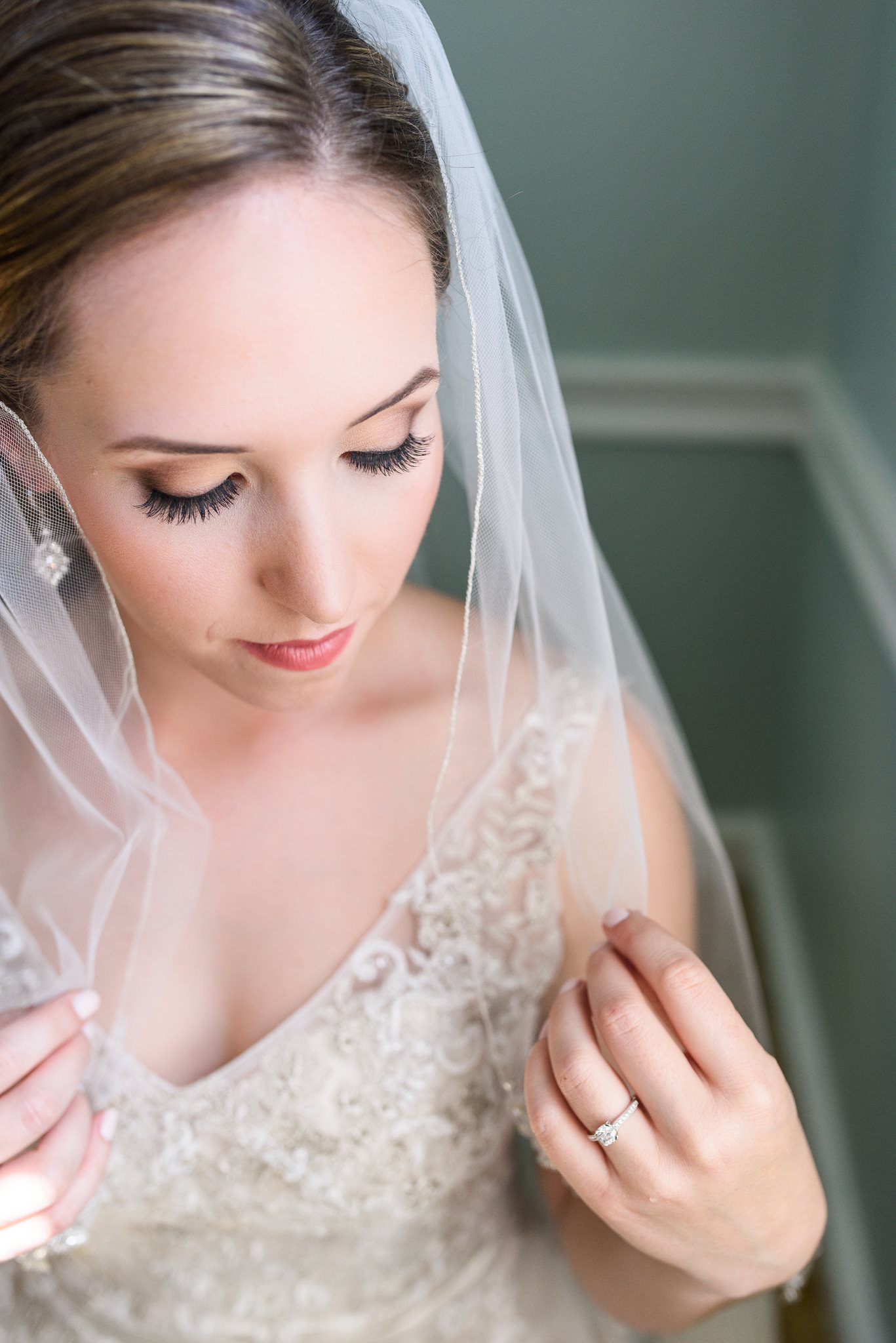 Classic Makeup and Airbrush Makeup
Bride (includes lashes!) $175
Classic Makeup and Airbrush Makeup
Bridal party (per person, includes airbrush!) $100
Flower Girl Makeup (ages 9 and under)
Complimentary shimmer, gloss, and mascara!
Lashes $30
Hair Services Menu
Bride $175
Clip-in extension: Style & Set (bride must provide extensions) $35
Bridal Party
Bridal Party Up-dos $100
Bridal Party Blow-out $100
Flower girls (ages 9 and under) $60
Blow-out in addition to Up-do $50
Clip-in extension: Style & Set (must provide extensions) $35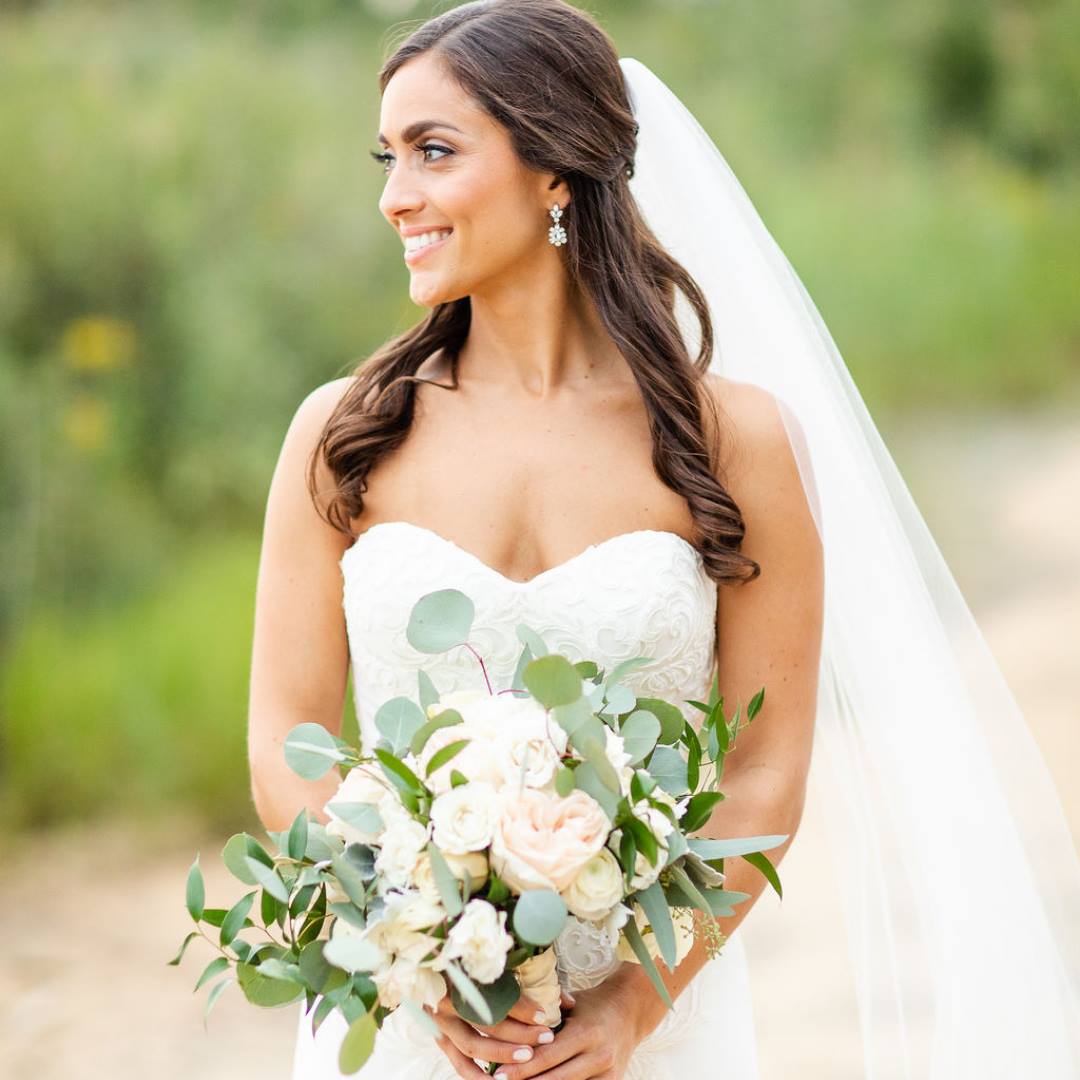 Frequently Asked Questions
What services do your offer?
We specialize in skincare, makeup and hair services for wedding parties. Complete makeup services include traditional or airbrush applications for a full range of skin tones. We also off temporary false lashes or individual eyelashes to enhance your look. In addition to makeup services, we offer skincare consultations to guide you to your most glowing skin possible! Brides, bridesmaids, mothers, grandmothers, and any relative or friend of the bride and groom are welcome as well! Hairstyle selections include up-dos, half-up, all down, and blow-out styling (which is a wet to dry style).
What products do you offer?
We offer custom jewelry to the bride and bridal party to fit the style set for your wedding day! Shop with us on Etsy.
What is the length of time that it takes to complete wedding day services for my bridal party?
Services are customized for each bride and bridal party. Heather Rea Style Studio will assist you in determining a relaxed, yet organized schedule.
Can I bring my own cosmetics?
Yes! Some of our brides have a lip color in mind or products they know work well with their skin. Feel free to bring them to the trial and we will work together to see if they are a good fit for your individualized look!
How should I prepare for on-site services on my wedding day?
To guarantee that your hair and makeup services run on time with flawless application, Heather recommends the following: 
Al table near an electrical outlet for both the hairstylist(s) and makeup artist. 
A low back chair for each hairstylist. Makeup artist will arrive with a makeup chair.
Natural lighting is beneficial for makeup services.
Wearing clothing that is easily removed to ensure it doesn't interfere with completed hairstyles and makeup application.  Robes and button up are most popular!
Avoid washing hair the day of the wedding; "Second day" hair works best.
If you wish to wash your hair the morning of your hair service, please make sure your hair is completely dry.
Dry hair that has not been flat-ironed works best for all styles, except a blow-out.
Wet/towel dried hair is best to provide you the best blow-out.
Clean skin with no moisturizer.  If you are dry, you can use a moisturizer without SPF.
Where are trials offered?
To ensure that your hair and makeup services flow smoothly, we recommend the following:
Trials are performed in our studio in Frederick, MD, by appointment only. It is important to us that you meet with the stylist and/or makeup artist that will be there for your wedding day. Nailing down your look alleviates stress, so we always recommend booking one! Contact us at heatherrea@hotmail.com to schedule a date and time for your trial.
Heather's recommendations for a successful trial!
Photos that share with use the vision/feel of your wedding.
Photos of makeup inspiration.  It's best to select photos of some with your similar skin tone and eye color.
Photos of hair inspiration.  It's best to select photos of someone with similar hair color and texture.
Bring your veil, hair accessories and/or pins that you wish to use in your hair. 
Extensions!  Please make sure they are 100% human hair.
Any makeup that you would like us to experiment with during the trial.
List of allergies to any ingredients found in hair and makeup products .
Will Heather Rea Style Studio provide a trial for mothers or bridal party members?*
Yes, we offer trials for the mother of the bride, but we do not offer trials for the bridal party due to the high demand of bridal trials. However, we would be happy to discuss their hair style and makeup look options via email as well as look at picture ideas.
How far in advance should I book with Heather Rea Style Studio?
The sooner the better! We book up quickly, especially during busy wedding months! However, we have multiple stylists and makeup artists so that we can accommodate multiple weddings per day.
How does the booking process work once I decide I would like to work with Heather Rea Style Studio?
First, We would like to have a quick phone consultation before the trial.
Then, you will need to book a trial within 4 weeks of your inquiry. We will put a soft hold on your wedding day once you book your trial.
Finally, to hold your date you will have 1 week from the date of the trial to sign the contract and send a 50%, non-refundable, deposit to Heather Rea Style Studio.
What forms of payment does Heather Rea Style Studio accept?
We accept cash and check for the trials, the 50% deposit, and the remaining balance. Final wedding day payments are due 30 days prior to the wedding day.
My bridesmaid dropped out; do I still need to pay for her?
On our contract, we do have a 120 day head count agreement which is not hidden and is easy to read. It is the bride's responsibility to make sure and double check with her bridal party 4 months before the wedding date. The bride may always try to add attendants to the list after 4 months, but cannot take away attendants. If for some reason a party member needs to drop out, the bride is still required to pay for the amount agreed upon; however the bride may replace that missing person with another family member or friend!
I already said I loved my hair style at the trial and then want to change my style on the wedding day, is that okay?
We do not advise that you make any changes to your style after your trial. If you plan on making one we request that you book another trial run.
I already said I loved my makeup at the trial and then want to change my look on the wedding day, is that okay?
We do not advise that you make any changes to your makeup look after your trial. If you plan on making one we request that you book another trial run.
What experience do your artists/stylist have?
Our artists/stylists are all experts in their craft and have been hand-selected by Heather Rea for their amazing talent and years of professional experience. On top of creating gorgeous looks for hundreds of brides each year, many members of our beauty team also work as artists for well-known makeup brands as well as high-end salons.
What is the difference between traditional and airbrush makeup?
The biggest difference between airbrush makeup and traditional makeup is that airbrush makeup is water-resistant.Traditional makeup looks great and will last for several hours. If you tend to have more oily skin, especially in warmer months, you will want to carry a small powder puff with you for touch-ups during the day. SHOP our touch-up kit!
We love Airbrush makeup and recommend it to all of our brides! Airbrush makeup is a light mist of foundation that is actually sprayed onto the skin. The result is flawless, glowing, perfect skin. It's long-lasting formula allows you all day wear with little to no touch-ups! Not sure which is right for you? No problem! Our makeup artists will be happy to discuss your options and test out both during your trial!
Where can I find hair and makeup inspiration to find the perfect look?
We love Pinterest! Follow us there for tons of gorgeous hair and makeup ideas! You can also visit our Facebook page! Every week we post photos of our beautiful brides and real weddings.
Can you service a large group or bridal party?
Yes! We love to accommodate bridal parties of all sizes! Please discuss your needs further with us to determine the number of artists/stylists needed for your wedding! Additional fees may apply.
Having a small group or bridal party?
In order to send a dedicated hairstylist and/or makeup artist to your location, we require a 3 person minimum for hair, and 3 person minimum for makeup. For bridal parties needing fewer services (Bride Only, or parties of less than 3), pricing will be adjusted slightly in order to send a dedicated stylist/artist to your location. Please contact us to inquire about availability and pricing.
Is there a travel fee?
Please contact us for a travel quote.
Will you travel to my location on the wedding day?
Of course! We are an on-site beauty team! We come right to you in the comfort of your home, hotel or bridal suite to get you and your bridal party gorgeous and ready for the big day! We travel throughout Maryland – including Annapolis, Baltimore, Southern MD and the Eastern Shore – as well as DC, Northern Virginia and parts of Delaware.
Have questions regarding your location? Feel free to contact us!
What can I expect on the wedding day?
Relax and have fun! We come right to you! Feel free to wake up in your robe, enjoy mimosas with the girls, listen to music and laugh the day away as our beauty team gets you gorgeous and ready to tie the knot! We are so honored to be a part of all the excitement of your big day!